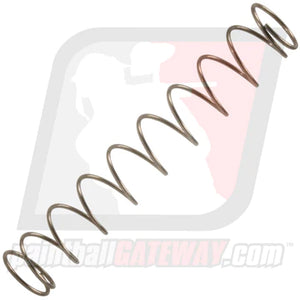 PBG Customs Planet Eclipse EMEK / MG100 Ultralight Trigger Spring (UB36)
Planet Eclipse Emek / MG 100 Magfed Paintball Custom-Designed Ultralight Trigger Spring for the smoothest possible pull. 

Finding the perfect spring for your Marker is tough.  It is one of the main items that define how your gun will shoot.  Too hard and your trigger feels rough, too loose and it feels sloppy or inconsistent.  Our PBG Customs spring allows for smooth and fast trigger pulls.  Tested and re-adjusted for months by players before we went into production for that perfect trigger feel.
Fits Planet Eclipse Emek and MG100.


Fits Stock and most aftermarket Triggers
Designed and Engineered by PBG Customs
Smooth and Consistent spring tension throughout
Same spring used in our Planet Eclipse Emek and MG 100 Sweet Spot Triggers

Tested and used by many top mechanical players in the USA.

PBG Customs is our in-house design, testing, and manufacturing.  Tested for superior performance and reliability.  By players for players.  CNC machined in the USA.