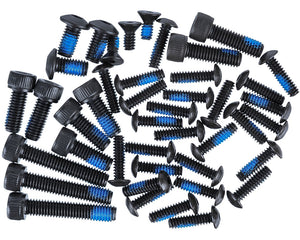 Planet Eclipse EMEK / EMF100 Blackout Screw Kit
A complete set of blackout screws to complement your EMEK EMF100 setup. Simply replace your existing silver screws.  They even ship with an extra of each incase you lose one.
Contains:

(27) EMC Kit Screws
(3) Grip / Eye Cover Screws
(3) Frame Screws
(3) POPS Retaining Screws
(5) Short Feedneck Screws
(2) Long Feed Neck Screws
Also compatible with EMEK EMG100 / EMC2 Kits / PWR Stock.